Skip to Content
Secluded
Jewel by the Sea
Sunset Reef St. Kitts
Casually Refined, Naturally Splendid
Arriving at Sunset Reef St. Kitts is akin to discovering an extraordinary secret. Perched above the Caribbean Sea with unobstructed views of turquoise waters and glowing sunsets, our boutique resort offers elegant suites and rooms complemented by the sublime sense of being suspended in a tropical dream. Sail away on a yacht to a neighboring island, tour our lush countryside on an ATV, or stick around and indulge in a gourmet meal prepared just for you — and enjoy it in beach hair and bare feet. Discover the luxury of seeing where the day takes you.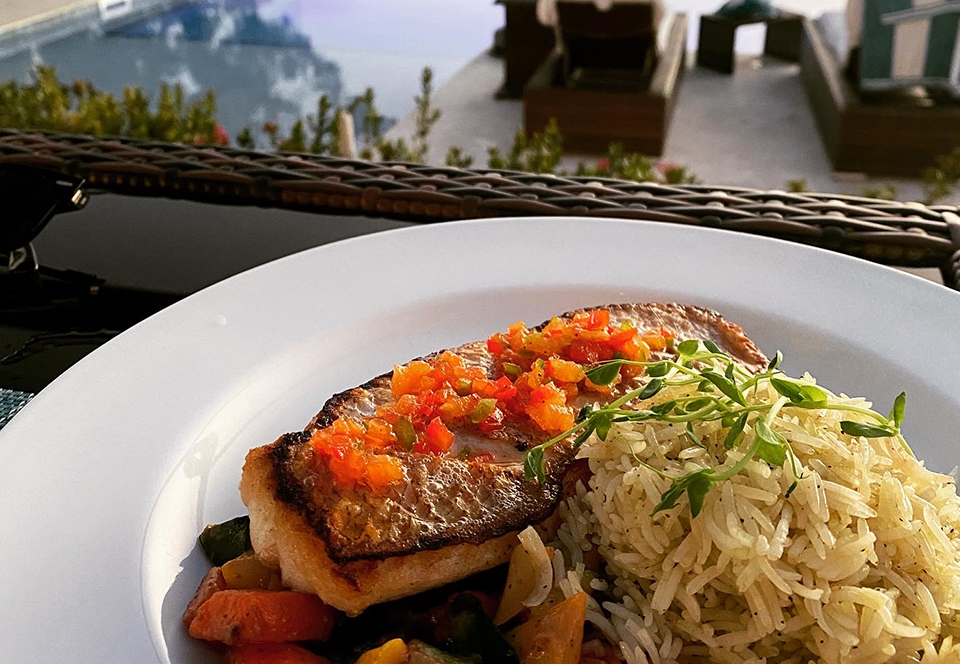 Diving & Snorkeling
Seasoned divers and vacationing families who want to see what lies beneath the waves are equally treated to the wonders within St. Kitt's crystal-clear waters. From near-shore reefs easily admired with a snorkel mask and fascinating wrecks to underwater caves, this is the destination for a thoroughly immersive experience.
Go Deeper
Go Island Hopping
With hundreds of islands in the Caribbean, the scenery is vast and varied. Take a six-minute water taxi ride to Nevis or go a little farther still to see the dramatically different landscapes and experience the vibrant cultures that are just an island over.
Reggae Beach Day
Unwind on a beach with its own relaxed beat. A day on the tranquil shores along Cockleshell Bay can be as laid-back as an afternoon siesta in the shade and as exciting as taking off on a Jet Ski adventure with friends.
Lounge by the Pool
Whether you go in for a refreshing swim on a sunny day or relax in the balmy waters under a canopy of stars, our sustainably heated infinity pool overlooking the sea is always a good idea. Claim a lounger and see where the day takes you.
Under the Mango Tree
Sometimes the greatest luxuries lie under the dappled shade of a mature fruit tree. Many of our guests arrive with an exhaustive list of plans that quickly fade when they see the serene setting of the mango tree by our pool. Come. Sit. Relax. And then, come back.
Dine at Drop Anchor Grill
Tantalize your senses with fresh, local fare served al fresco with gentle breezes and views of azure seas or twinkling stars complementing every bite. At Drop Anchor Grill, our menu and all our products are carefully sourced from suppliers who are deeply committed to quality and environmental sustainability.
Dine with a View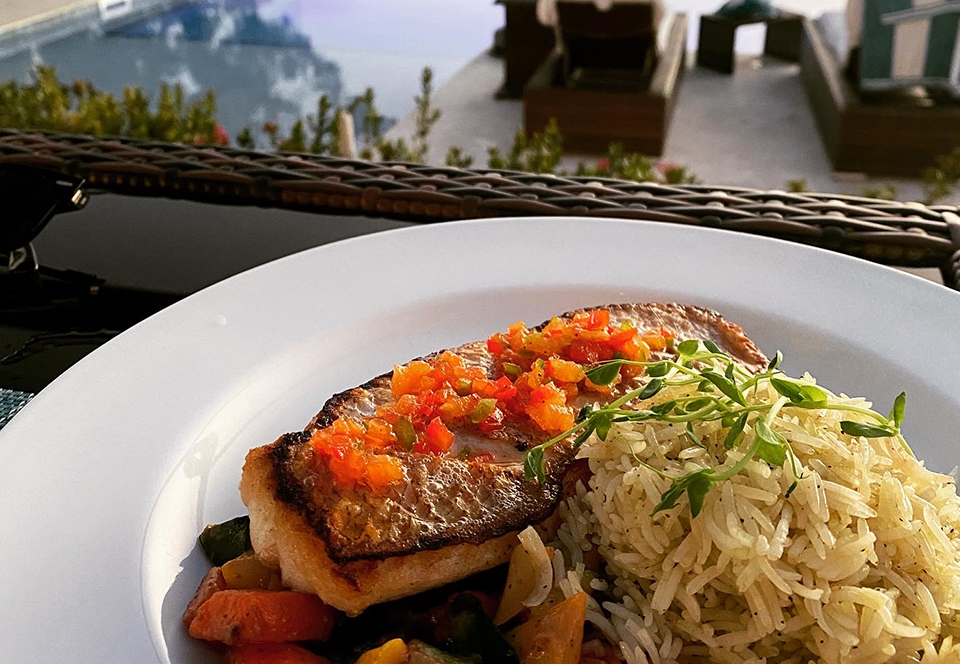 Overlooking the Sea
Reserve a suite for a weekend of romance. Book the resort exclusively for your group. Come back with friends or start a family tradition with your little ones. Our exceptionally appointed rooms and suites evoke casual sophistication with electronically adjustable beds and the finest bamboo linens, among many other amenities. We've attended to every detail, so your experience is a seamless pleasure.
View Suites
Sustainability Values
St. Kitts is an idyllic island with unparalleled natural beauty, so from our earliest days, reducing our impact on our environment has been our North Star. Take a look at our ongoing efforts toward implementing sustainable practices across our resort.
Learn More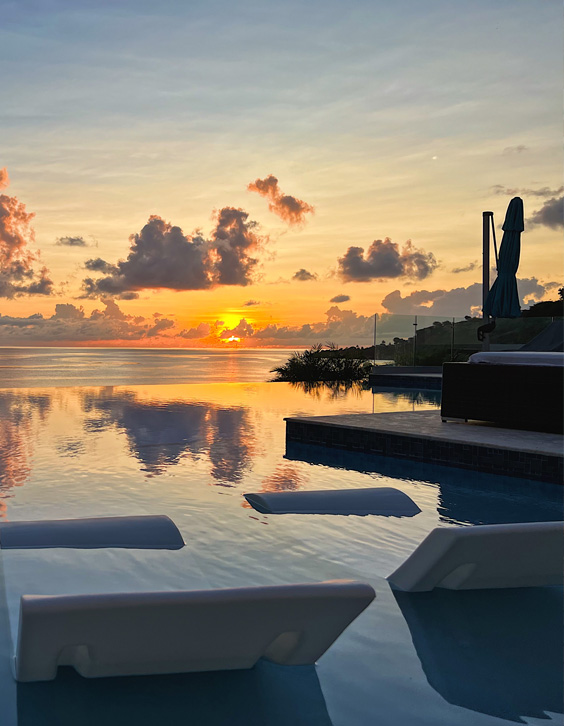 Our Infinity Pool
Our beautiful pool offers more than looks and views. The warm, inviting waters that are a pleasure any time of day in any season are heated as part of an energy loop that helps run the air conditioning units in our suites and rooms.
Personalized Concierge Service
From your seamless arrival and engaging activities arranged specifically for your family to on-island travel and exciting dining experiences that add magic to a romantic escape, our consummate concierge services will help make your getaway distinctively yours.
So Many Options
A Hidden Gem
Off the main path and removed from the vibrant energy of the more frequented parts of the island, our boutique resort is a retreat from the common travel experience. Come, escape to a hideaway that's a short ride from major attractions but far from ordinary.
Discover St. Kitts
From turquoise waters and lush, green mountains to black volcanic sand beaches with palm trees gently swaying in the breeze, St. Kitts is a tropical destination that reveals itself one delightful moment at a time.
Explore More
Getting Here Is A Breeze
Choose from a dozen major carriers offering daily service to our island with flights from the US, Canada, the UK, and continental Europe. Book a nonstop flight directly into Robert Llewellyn Bradshaw International Airport — widely considered the best airport in the Caribbean — and increase your options with connecting and charter flights from even more points of origin.
Learn More
Hidden Gem just amazing
So happy I came across this new resort in St Kitts. They have truly thought of everything. Well-appointed rooms, Nespresso machines, Cariloha adjustable beds, and amazing linens. Lounge areas with fire pits, beach bar with evening parties.
Paradise
What a gorgeous place to visit. We were greeted with cocktails and then taken to our 5-star accommodations. The views of the ocean were stunning. The suite we stayed in was amazing and attention to detail was obvious.
Wonderful priceless spot
Stunning setting, exceptional staff, we are so, so glad we found Sunset Reef! The most beautiful surroundings, a gem of a spot to relax, unwind, and not worry about a thing!! The food is excellent, the cocktails sublime, we will definitely be back!