Skip to Content
Sunset Reef St. Kitts
Sustainably Minded
Take part in a vacation with a reduced carbon footprint. Understanding our shared responsibility to minimize our impact on our island's environment and resources, we have taken measures to provide a sophisticated getaway while continuously making strides toward an increasingly sustainable experience.
Renewable Energy Management
Through our use of geothermal technology, our in-house system creates enough natural energy to heat numerous water sources across the resort, including our laundry room, dishwasher, showers, and stunning outdoor infinity pool. Additionally, we can power the air conditioning in our rooms and suites with this same source.
How We Keep Sustainable
Introducing Our Highly Efficient Air Conditioning System
Our air conditioning system is exceptionally efficient, utilizing solar energy to cool your space while simultaneously heating our pools, hot tubs, and hot water. By harnessing the power of the sun, we have dramatically reduced our carbon footprint and maximized the use of excess solar and geothermal energy stored in our pools. Each room has its own dedicated air circulation unit, enhancing health and safety. With precise control, energy efficiency, and a sustainability focus, Sunset Reef's Intelligent Cooling System provides optimal comfort while minimizing environmental impact. Experience the future of efficient cooling at Sunset Reef St. Kitts.
Powered by Our Pools
Our ideal location in the Caribbean allows us the ability to harness the sun's energy. We make use of this abundant natural resource with Air-To-Water fan coils that draws the air's heat from within our spaces. This captured heat is what powers our resort. This stored geothermal energy warms our beautiful infinity edge pool. In addition to the pool, our mineralized hot spa and cold plunge pool function as a battery for this state-of-the-art system.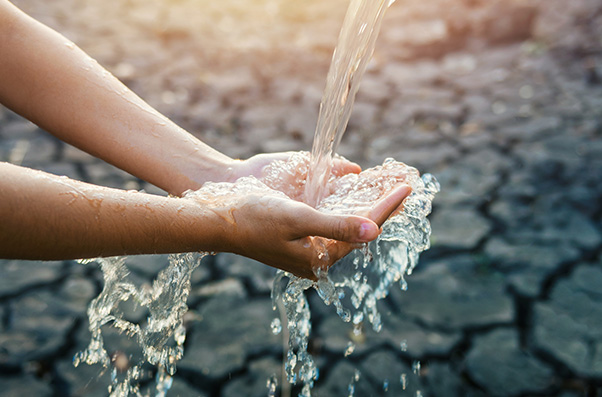 Conserving Our Clean Water
We filter up to 1,000 gallons per day to provide "confidence to the tap." Domestic water comes into two FDA-approved tanks and is then passed through sediment filters, a carbon filter, a UV filter, and a 5-micron filter before being distributed throughout the resort. This quadruple filter makes our water and ice safe and delicious and also eliminates the need for plastic bottles. Furthermore, our guest rooms as well as our restaurant are equipped with a reverse osmosis system which ensures an exceptional water quality throughout the resort. To conserve our resources, we planted beautiful native plants that naturally require less water and instituted a closed-loop system.
Plastic-Free Living
Plastic bottled water is neither provided nor accepted at our resort, and our bar straws are entirely biodegradable. We encourage you to join us in our efforts to reduce plastic waste by bringing your own reusable water bottles.
Looking Ahead
Wind turbines that blend with the landscape and are safer for birds
Hydrogen generators that only require seawater and sunlight
A solar cube that will allow us to be completely off the grid and fully run on solar energy